Infected versus Infectious
As I said in my post Frequent, Fast, and Cheap is Better than Sensitive we shouldn't be comparing virus tests head-to-head, as if all tests serve the same purpose. Instead, we should recognize that tests have comparative advantages and a cheap, fast, frequent testing regime can be better in some respects than a slow, infrequent but more sensitive testing regime. Both regimes can be useful when used appropriately and especially when they are used in combination.
Eric Topol has a good graphic.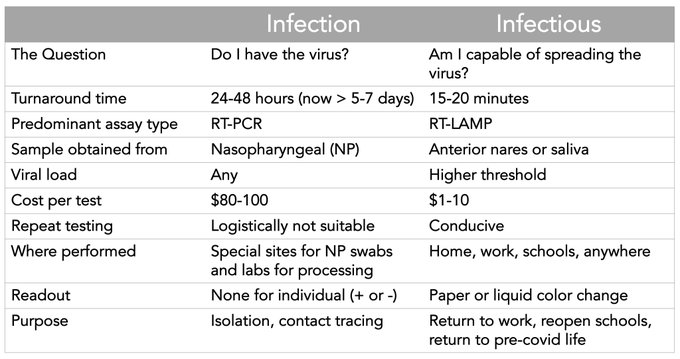 As Topol also notes:
In order to get this done, we need a reboot at @US_FDA, which currently requires rapid tests to perform like PCR tests. That's wrong. This is a new diagnostic category for the *infectious* endpoint, requiring new standards and prospective validation.
The FDA has sort-of indicated that they might be open to this.
Much, much too slow, of course. Matching a virus that grows exponentially against a risk-averse, overly-cautious FDA has been a recipe for disaster.