Buy (or Rent) Coal! The Coasean Climate Change Policy
Since climate change and what to do about it are in the news it's time to re-up an underrated idea, buy coal! Carbon taxes increase the price of carbon and induce economic and technological substitution towards lower-carbon sources of fuel in the countries that adopt them. As carbon-tax countries reduce fuel use, however, non carbon-tax countries see the price of their fuel decline. Thus, unless all countries join the tax-coalition, there is leakage. Supply-side policies are an alternative to demand supply policies. The United States, for example, could buy out and close coal mines, including giving the workers substantial retirement/reallocation bonuses, thus reducing the world supply of coal which is still the largest source of C02 emissions.
You can get rich by hitting an oil gusher, but coal is relatively expensive to mine and to transport. Thus, it's relatively cheap to buy out coal mines because you aren't buying the coal, you're buying the right to leave the coal in the ground. Cutting the supply of coal raises its price which will increase the quantity supplied in other countries. Thus, there is the potential for supply leakage as well as demand leakage. It's probably easier to use more coal when the price of coal falls (electricity, for example, can be generated in a variety of ways) than it is to mine more coal when the price rises. In other words, the elasticity of the demand for coal is greater than the elasticity of supply so supply leakage is probably less than demand leakage. Furthermore, supply leakage can be handled by buying out supply in the non-coalition countries. As Noah Smith pointed out with the graph at right (data) US CO2 emissions are actually falling while the rest of the world keeps rising (as they catch up in per-capita terms) so addressing the CO2 emissions problem requires bringing countries like China and India on board.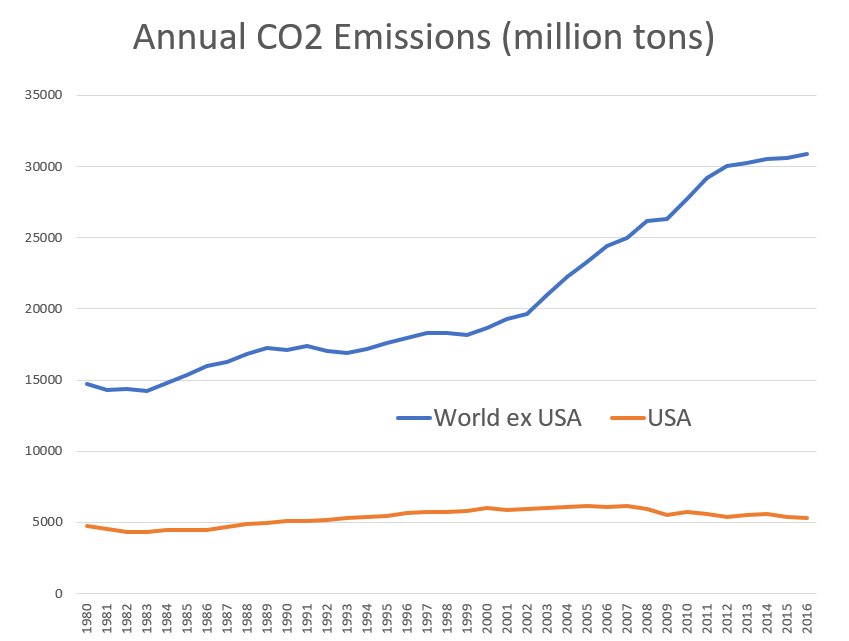 Coal use in China is very high and increasing. India has been canceling coal plants as solar becomes cheaper but coal is still by far the largest source of power in India. Thus, there is plenty of opportunity to buy out, high-cost coal mines in China and India.
It might seem odd to buy Chinese and Indian coal mines but we buy Chinese and Indian labor, why not a coal mine? Moreover, it's important to understand that the policy is to buy only up to the point that it benefits both parties. Buying coal isn't foreign aid, it's a pollution reduction plan just like a carbon tax or R&D investment and because we can buy barely-profitable coal mines and avoid the problem of leakage this is a low-cost method to reduce CO2 emissions.
Collier and Venables worry that foreign voters won't like foreign investors buying up coal mines, although foreign investment is hardly uncommon and foreigners do protect rainforests by buying the right to cut them down. In any case, Collier and Venables suggest a cap-extract and trade program. Under cap-extract there is a cap on global extractions of carbon (not use) but rights to extract can be traded. Since it's more valuable to extract say oil than coal what this would mean is that payments would flow from mostly developed countries to developing countries which makes it clear that we are all in the boat together.
Even without a cap-extract and trade program, however, there are other factors that make buying coal attractive to people in selling countries, namely coal is killing them even putting aside the dangers of climate change.
NYTimes: Burning coal has the worst health impact of any source of air pollution in China and caused 366,000 premature deaths in 2013, Chinese and American researchers said on Thursday.

Coal is responsible for about 40 percent of the deadly fine particulate matter known as PM 2.5 in China's atmosphere, according to a study the researchers released in Beijing.
India's air quality is even worse than China's and is responsible for some 1.2 million early deaths annually. A 25% cut in pollution in India could increase life-expectancy by 1.3 years and in some highly polluted cities such as Delhi by 2.8 years. Not all pollution comes from coal but a substantial amount does.
Buyers might worry that a foreign government will take their money and later renege on the deal. There are lots of ways to deal with this problem–turn the coal fields into a national park, for example, or develop them for housing. But let's turn a problem into a solution. Instead of buying coal, we could rent it. In other words, buy the right to delay mining the coal for say 10 years. Given the rate of improvement in solar, many coal plants will be uneconomic in 10 years and given the rate of improvement in living standards and the consequent increased demand for clean air, many coal plants in India and China could well be unpolitical in 10 years. Thus, it is true that some solutions are naturally in the offing, but for exactly this reason some coal plants are going to be working extra hours in the next decade to squeeze out what profit they can while they still can. We can avoid this last push of CO2 into the atmosphere by buying up the right to extract and holding it for a decade.
A program to leave coal in the ground could easily pay for itself in lives saved and climate stabilized.