There is now a NIMBY index
Check out the new NBER paper by Joseph Grourko, Jonathan Hartley, and Jacob Krimmel:
We report results from a new survey of local residential land use regulatory regimes for over 2,450 primarily suburban communities across the U.S. The most highly regulated markets are on the two coasts, with the San Francisco and New York City metropolitan areas being the most highly regulated according to our metric. Comparing our new data to that from a previous survey finds that the housing bust associated with the Great Recession did not lead any major market that previously was highly regulated to reverse course and deregulate to any significant extent. Moreover, regulation in most large coastal markets increased over time.
One embedded lesson is that the number of veto points over new construction is increasing.  And "By our metric, about one half of all communities in the Regulation Change index increased regulation, one-third decreased, while only 18 percent showed no net change."
Here is a graph of housing affordability vs. their index of restrictiveness: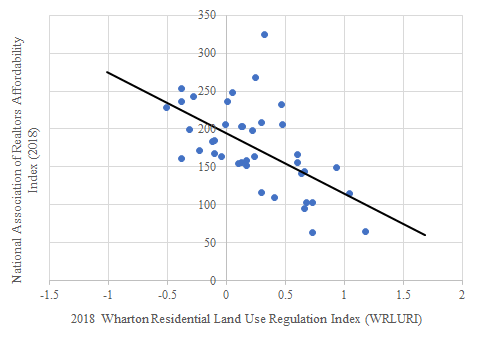 Here is my earlier Bloomberg column calling for more indices — this is exactly what I wanted.