Month:
September 2019
It's often said that Australia hasn't had a recession in nearly 30 years. Paulina Restrepo-Echavarria and Brian Reinbold of the Federal Reserve Bank of St. Louis take a closer look. If a recession is defined as two quarters of negative growth in GDP then the claim is true but if you define a recession as two quarters of negative growth in GDP per capita then there have been three such recessions since 1991: circa 2000-2001, 2005-2006 and 2018-2019.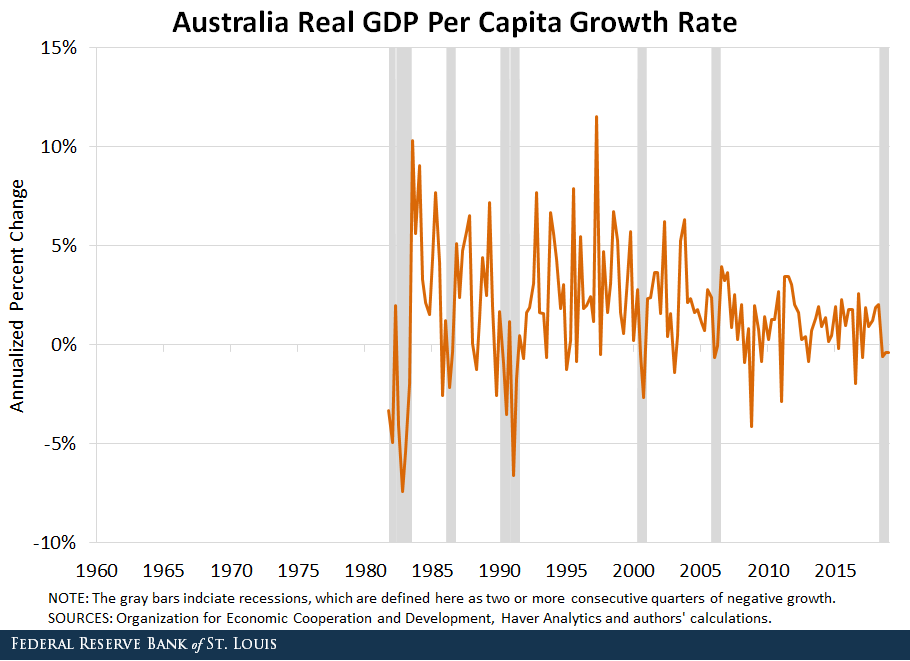 Most countries, however, have had more recessions when measured in GDP per capita than in GDP and Australia still looks comparatively good on this measure. Moreover, the official definition of a US recession is not two quarters of negative growth in real GDP it's the more holistic
A significant decline in economic activity spread across the economy, lasting more than a few months, normally visible in real GDP, real income, employment, industrial production, and wholesale-retail sales.
Did Australia have three recession since 1991 by this measure? It's difficult to say but I would look more to unemployment rates. The following graph shows Australian real GDP growth rates in purple measured quarterly, real GDP per capita in green measured annually and the unemployment rate in blue. (The data is not identical to Restrepo-Echavarria and Reinbold (RER) as I use FRED data and the FRED economists do not!). As per RER the purple line is generally above the green so you are more likely to see recessions in GDP per capita than in GDP. Take a look at the unemployment rate, however. The 2005-2006 Australian "recession" is completely absent in unemployment so I would rule that out. I also do not see any recession as measured by unemployment in 2018-2019, perhaps it is coming but I would rule it out as of today. The unemployment measure clearly identifies recessions circa 2001-2002 which agrees with RER and also in 2008-2009 where RER do not identify a recession!. Thus, the RER identification of recessions doesn't work very well as it has both false positives and false negatives.
On the larger issue of Australian economic performance, at worst, I would identify two mild recessions since 1991, circa 2001-2002 and 2008-2009. Now look again at the graph. The shading is US recessions! The Australian and US economies are united enough and subject to similar enough shocks that US recession dating clearly picks out Australian recessions as measured by increases in unemployment rates.
The bottom line is that however you measure it, Australian performance looks very good. Moreover RER are correct that one of the reasons for strong Australian economic performance is higher population growth rates. It's not that higher population growth rates are masking poorer performance in real GDP per capita, however, it's more in my view that higher population growth rates are contributing to strong performance as measured by both real GDP and real GDP per capita.